Make your skin glow
This Jade Facial Massage Set will become a wonderful addition to your skin care routine. Use these tools for facial and body massage regularly to soothe your skin and reduce puffiness.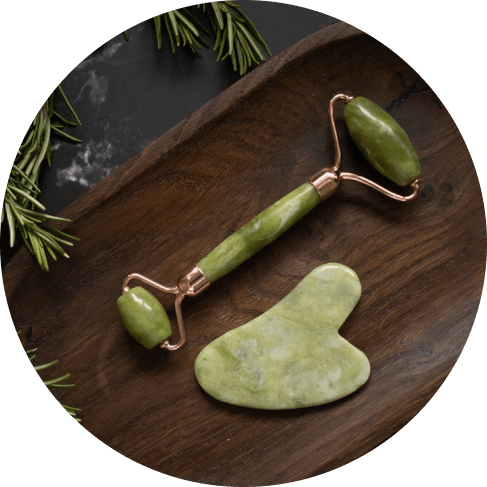 About the product
Massage tool for smoother and brighter skin
Face roller
Add warmth and peace to your routine with this jade facial roller. Designed with two Xiuyan jade stones, this tool will enhance your natural beauty creating a lit-from-within glow. Size: 5.8 in. * 2.4 in. Frame material: zinc alloy.
Guasha tool description
A jade guasha tool is a massage stone used in Chinese traditional medicine for tightening loose skin and improving its radiance. Small in size, it will have a big impact on the overall health of your skin. Size: 2.95 in.*1.77 in.
How to do a facial massage
After cleaning your skin, start moving the tool from the center of your face in an outward and upward motion. Repeat it several times on your jawline, lower cheek, and cheekbones. Use the small roller for your under-eye area.
Jade stone
Xiuyan jade is known as a stone of eternal youth. Retaining its coolness for long periods of time, it possesses balancing and naturally cooling properties. Metaphysically, this stone promotes harmony, enhances relaxation, and blocks negative energy.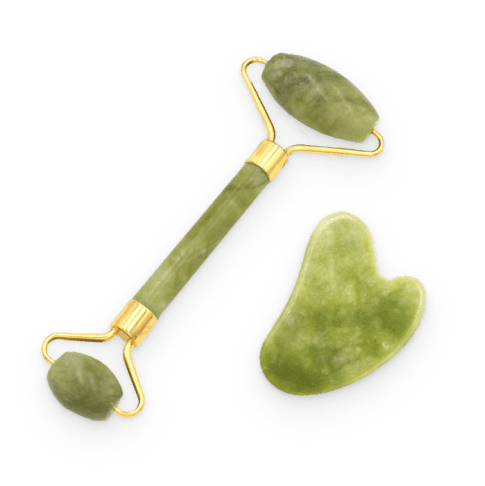 Stay forever young
A regular usage of this Jade Facial Massage Set will help you to shape and contour your face. It enhances blood circulation, encourages skin cell rejuvenation, promotes lymphatic drainage, reduces puffiness, and relieves tension. Besides, it improves product absorption. Start caring about your skin's health now with this marvellous Jade Facial Massage Set!