Wireless rose gold mouse
The market is full of the mice that are so different: matte, glossy, cheap, expensive, wired, wireless, with one or another type of connection, with the lights or without the lights – there are a TON of them. But the issue is that oftentimes manufacturers turn a blind eye to the important things like durability, user experience, and capabilities. Check this mouse out – it's not only sleek, but also very capable and smart.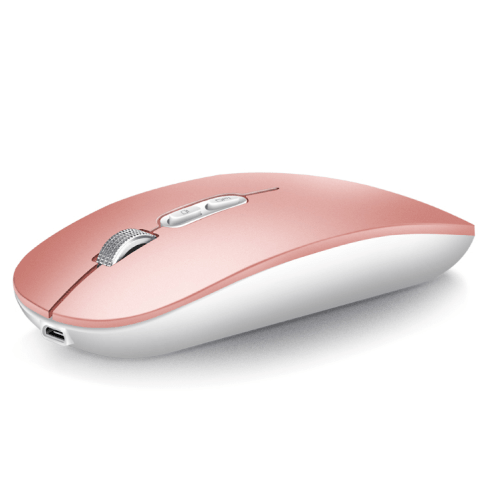 A superior gadget
A rare mouse comes close to this one
Product specifications
Material: ABS + metal. Size: 4.44×2.24×0.98 inches Working distance: 32 feet. DPI: 800/1200/1600
BT compatibility: Windows, macOS, iOS 13+
Battery life: up to 2 months
Bright design solution
The idea behind this mouse was to design it in the best way to fit your hand comfortably. It did give a result – it sits firmly and securely. Enjoy full control of everything! And if you want a bit more privacy – one button can return you to the desktop.
Wonderfully silent
The mouse is made to be as silent as possible. Don't ever disturb someone's peace (or your own peace, for that matter) by having a loud mouse that everyone around you can hear. No more unwanted gazes and attention. Respect goes a long way!
Fantastic versatility
The mouse can work either via the Bluetooth 5.0 connection or via the receiver that you plug in the laptop. Don't ever be attached to only one way of connection. Even if you lose the receiver or the device doesn't work with Bluetooth, you can always use your mouse.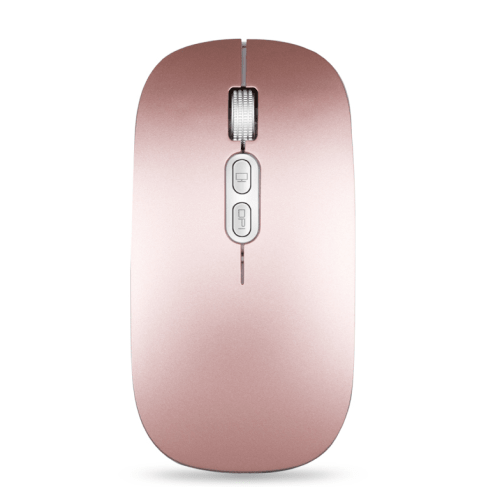 A trusty friend for you and your computer
You can confide in its durability, versatility, design, engineering, and moreover – it can keep your secrets. You will never look at any other mouse because you know that this one has got your back like no other can. Put it in your bag and take it anywhere – you know it won't let you down and it'll work no matter what.