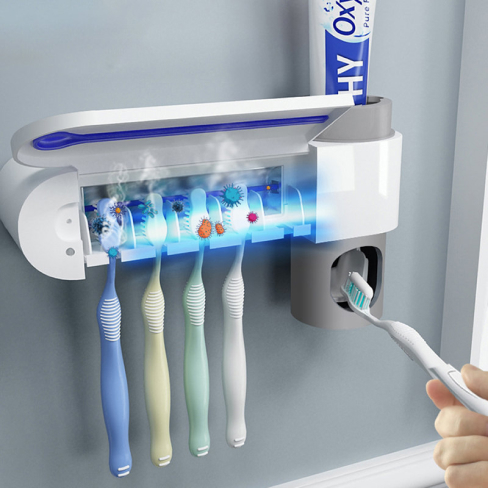 Your deepest clean ever
We're always told to brush our teeth twice daily to keep our mouth fresh and clean. From fresher breath to less plaque and tartar, dental health is serious work. It's all about getting clean — but how clean is your toothbrush? Introducing our Toothbrush Holder With UV Sterilizer, a new way to keep your toothbrush stored, out of sight, and free of bacteria — for a deeper clean.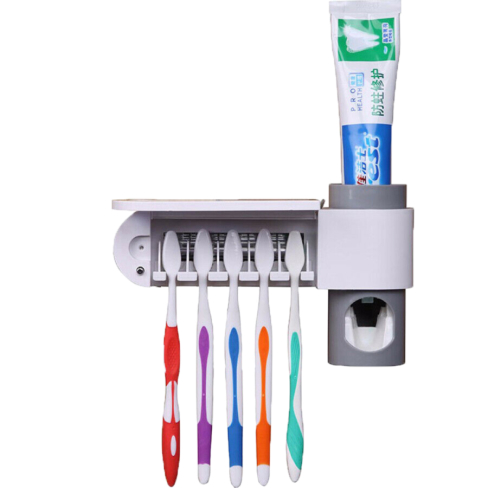 Just four minutes for virtually zero germs
With the power of UV sterilization, our holder kills up to 99.9% of bacteria that can linger on toothbrushes after use. How does it work? UV light produces ozone, which is a bactericidal gas. That means less contamination going into your mouth — for a clean brushing experience, everytime.
Out of sight, out of mind
Our toothbrush holder holds up to five toothbrushes at once, all for UV sterilization. It made of plastic and measures 8.1 x 5 inches. Never worry about bathroom sink clutter or possible airborne contamination again with our shut-close UV chamber that keeps your brushes clean and virtually germ-free.
Fuss-free toothpaste
Clutter be gone with our built-in toothpaste chamber (just insert your toothpaste in). An interior vacuum pump dispenses product onto your brush when you press against a lever. No drips or sticky mess.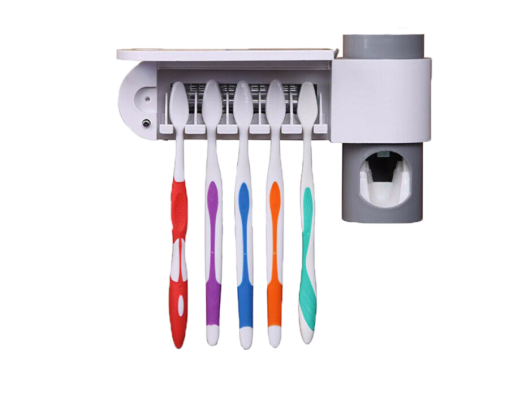 No tools or drill required
Our Toothbrush Holder With UV Sterilizer comes with a 3M heavy-duty adhesive pad that will help secure your new device station to any wall. Nothing else is required on your part to install.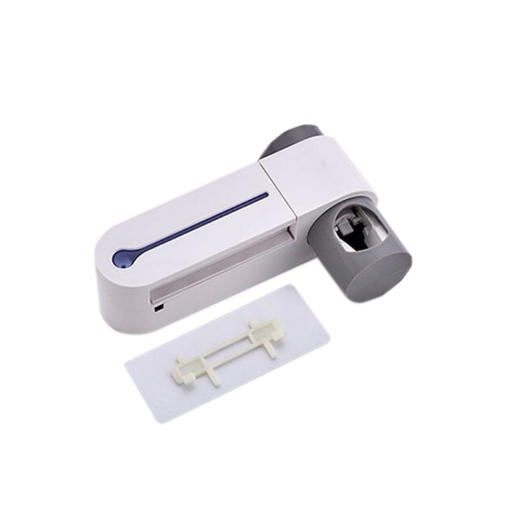 It's a one-button operation
Sanitize your brushes with just the push of a button. After four minutes, the UV light automatically shuts off. Should you open the holder cover anytime during the sanitization cycle, the UV light will automatically stop when opened, then resume its cycle once closed.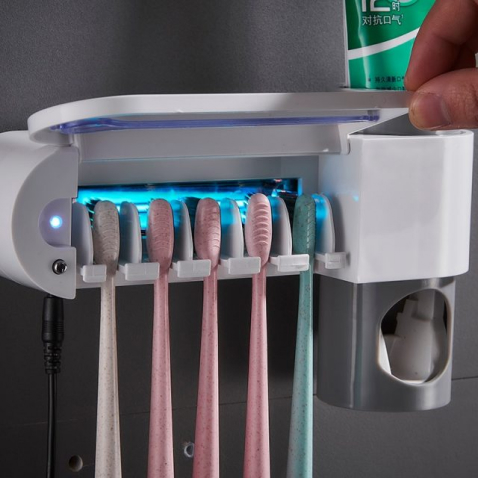 Just charge up
to power up
Our UV toothbrush station is built with one lithium-ion battery (included with purchase). A charger adapter comes with your order to help charge the device. The UV light fully charges in three hours, and provides 100 days' worth of sanitization time.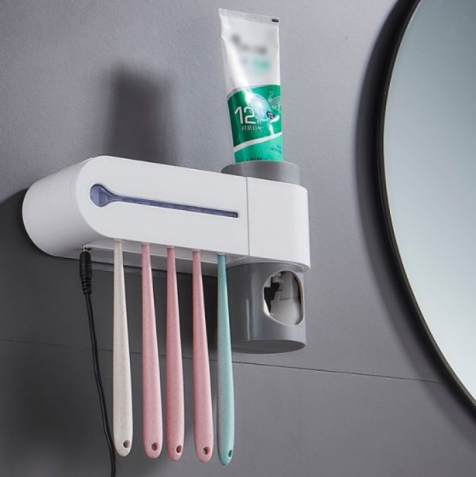 Ready to experience the power of UV
Just follow our four steps to properly install the adhesive plate.
Clean and dry the wall designated for installation.
Remove the adhesive mounting pad from the toothbrush sanitizer.
Heat the tape for 20 seconds with a hairdryer and remove the protective film from the adhesive tape.
Wait for 24 hours after placing the toothbrush sanitizer on the mounting pad